The InductWarm® system
Your advantages at a glance
No gel fuel
No water
No heating of the room
No risk of burning
Elegant design
Consistently fresh meals
Immediate readiness
Low running costs
How the InductWarm® system works
In combination with any induction-compatible pot (such as our InductWarm® porcelain) InductWarm® keeps food warm via induction. Using the InductWarm® remote control, you can conveniently select one of four different warming levels for each of the warming zones, guaranteeing the right temperature for any of your dishes. The warming zones switch off automatically when a dish is removed from the table and reactivate at the same temperature when put back again.

Finally you are able to also present your warm dishes at the highest stage in aesthetics – your guests are going to be thrilled.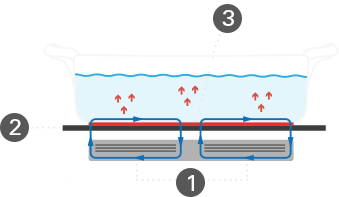 How does induction work?
With an induction warmer the heat is not transferred by a heating element via the warming utensil to the food to be warmed, but rather the necessary heat is generated directly in the pot with the aid of induction currents.

An induction coil (1) underneath the glass hob (2) generates an alternating electromagnetic field, which penetrates the glass hob and induces the heat-generating current in the base of the cookware (3).
Does and Don´ts
Do not use non-induction-compatible stainless steel pots, aluminium foil or dishes wrapped in aluminium foil with our InductWarm® devices.

Do not heat a pan while empty. This could cause the pan to overheat and destroy the induction device.

Warning: Unsuited pots may lead to unsatifactory or uneven warming, and may even lead to malfunction of both pots and our devices.

Do use only induction-compatible pots, that are marked as such by the producer, ideally from our preferred partners:
InductWarm
Blanco Professional
Le Creuset
Staub
Revol
Rieber
Your Advantages
Design & Quality
Present your creations to your guests in fine porcelain that is freestanding and supported by stylish brushed stainless steel and glass.
All-round safety
The danger of getting burnt, whether by an open flame or by steam from hot water, is a thing of the past with the InductWarm® system – your guests and employees will be especially appreciative of this.
Outstanding convenience
The remote control lets you select the ideal temperature level for each individual dish. The InductWarm® system does not require any preparation time for this and is ready at the touch of a button. The optional casters mean that transporting the InductWarm® table is very straightforward
Consistently fresh meals
With our InductWarm® system you can keep food gently warmed and free of steam. This means that meals remain fresh for longer periods of time - the highest standards of colour, consistency and nutrients are retained.
Highest Energy-Efficiency
Thanks to induction technology, our InductWarm® system has particularly low energy requirements. With a power consuption of 750W per unit, max. four units can be connected to a single 230V power supply. This enables you to significantly reduce your operational energy costs.