INDUCTWARM® & INDUCTCOOK®
Clever inductive systems for food warming and cooking
The INDUCTWARM® - & INDUCTCOOK ® system
Keeping food warm and cooking: both efficient and attractive
With innovative induction technology from Gastros Switzerland, food can be kept warm efficiently and presented attractively. Two built-in cooking modules for the front cooking area are also brand new in the product portfolio. The focus is on delicious food and high-quality interior design.

Depending on the model, InductWarm® systems are installed flush in or invisibly under counters made of various materials. The result is a modern, multifunctional buffet counter that perfectly matches the individual ambience of the room. Whether pans, pots, porcelain dishes: to keep food warm with InductWarm® or to prepare it fresh with InductCook®, any induction-capable kitchenware can be chosen in the style of the interior design.

The power of the InductWarm® and InduktCook® induction systems can be precisely regulated at the touch of a button. In addition, the absence of hot water baths, electronic cooking appliances or gas improves the overall room climate. The result is an all-round successful ambience in which guests feel comfortable and enjoy themselves.
Why INDUCTWARM® ?
Dynamic Power Control
✓ DPC detects the quality of the inductive layer and adjusts its power accordingly
Userfriendly
✓ Easy controlling and cleaning
✓ Precise regulation of power levels
✓ Instantly ready to use
✓ Remote support is possible
Best Food Quality
✓ Keeps food gently warm
✓ No dilution
✓ No smell of burning paste
✓ Various food concepts can be realized
Save Energy with INDUCTWARM®
InductWarm® combines flexible design options with unbeatable benefits: Because our induction technology is significantly simpler, safer and, above all, more energy-efficient and cost-effective to use than conventional methods of keeping food warm. There are many reasons for this:
Save up to 90% energy with induction technology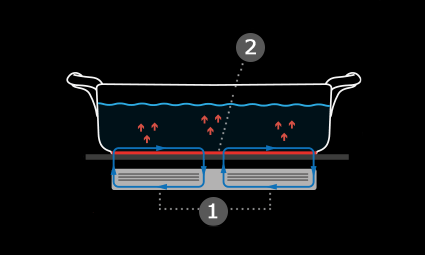 With InductWarm® induction systems you save up to 90% energy compared to hot water baths (´bain-marie´) and up to 70% energy compared to the widely spread keeping warm method using chafing dishes and fuel paste. This is because, unlike the alternatives mentioned, when keeping food warm with induction, the heat is not transferred from a heating element via the vessel to the food. Instead, the energy generated by an electromagnetic field (1) is converted directly into heat in the base of the vessel (2). The heat is therefore generated precisely where it is needed - in the immediate vicinity of the food, without energy loss or heat radiating into the buffet environment.
Eficiency in energy is efficiency in costs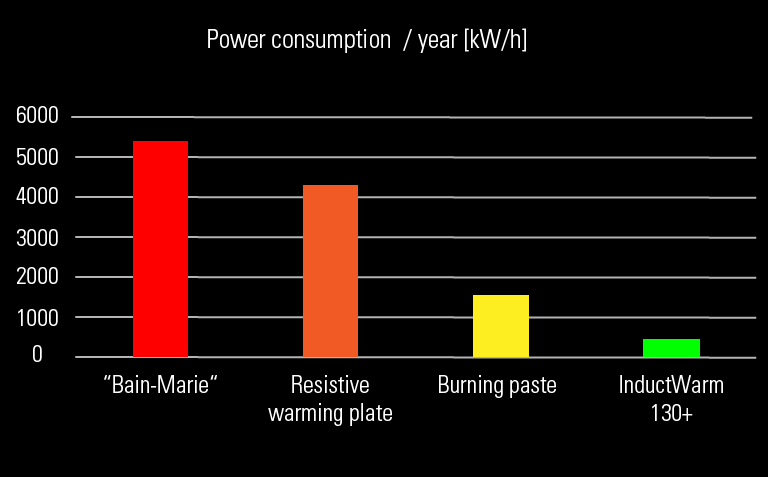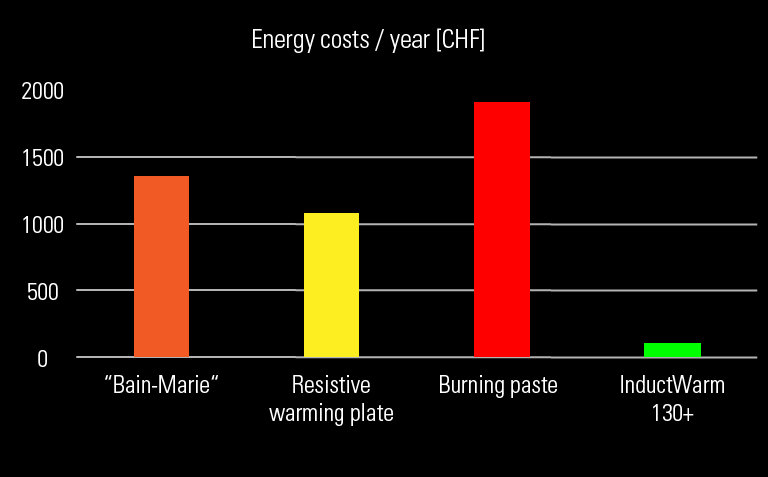 Calculation based on:
Pot sized used: GN 1/1
"Bain-Marie" and resistive warming plate: operation time 10h/day
Burning paste: operation time 4h/day – energy score 20MJ/h per liter ethanol
InductWarm® 130+: operated on level 2 (approx. 65°C) for 4h/day – energy cost CHF 0,25/kWh
High efficiency, low power consumption
The low energy consumption of the InductWarm® induction units is already reflected in the low power consumption of only 800W (for InductWarm® 130+) or 1000W (for InductWarm® 200). Depending on the type of fuse protection, two to three appliances can be operated without any problems using a conventional socket. After switching on, they are immediately ready to use, without a long preheating period.

Moreover, power is only generated when inductive dishes are on the induction unit. If the dishes are removed, InductWarm® units automatically switch to standby mode after a pre-programmed time has elapsed. This minimises the actual time of use and saves additional energy and costs.