InductWarm® 200 Tabletop

InductWarm® 200 Tabletop GN 1/1
Usable with pots up to a size of GN 1/1
With three warming zones
Measures: 575 x 318 x 73 mm
Max. mean power: 1 kW
Input voltage range: ~110 – 230 V AC
Certifications: IEC, CE, CB, UL, ETL Sanitation (NSF)
Compact device, elegant design and instantly ready to use – the tabletop induction device totally fulfils the requirements of the catering industry to the fullest whether it is for breakfast buffet, in restaurants or in the banquet section of high-class hotels. The set-up is done within seconds: Simply place the device right where it is needed, connect it to a conventional electrical outlet (input voltage range: ~110 – 230 V AC) and place any induction-compatible vessels on top. Without pre-heat period the induction device will keep food within the vessel warm straightaway.

With its precious, compact, stainless steel frame and its embedded glass-ceramic top, the InductWarm® 200 tabletop device sets a new standard for efficiency and safety as well as design. Having received the international certifications CE, UL and ETL Sanitation (NSF) the InductWarm® 200 tabletop brings that to proof.

Each InductWarm® 200 tabletop unit comes with six induction coils to achieve a well-balanced heat distribution. The device offers one comprehensive warming zone of a max. size of GN 1/1 which can be split into three individually controllable zones, each of a max. size of GN 1/3. For each warming zone you can chose one of four power levels. Therefore, it is possible, to keep different dishes warm at the most suitable temperature with just one induction unit. The device is controlled by the integrated touch panel or with an infrared remote control.
Highest level of efficiency and safety: If all dishes are removed from the unit's surface, the device automatically goes into standby mode. It returns to the previously selected power level when dishes are put back within 20 seconds.

For optimal storage and convenient transport of the InductWarm® 200 tabletop device the InductWarm® transport case is available. Even without the case up to ten induction devices can be stacked on top of each other.
Operating and Unlocking the InductWarm® 200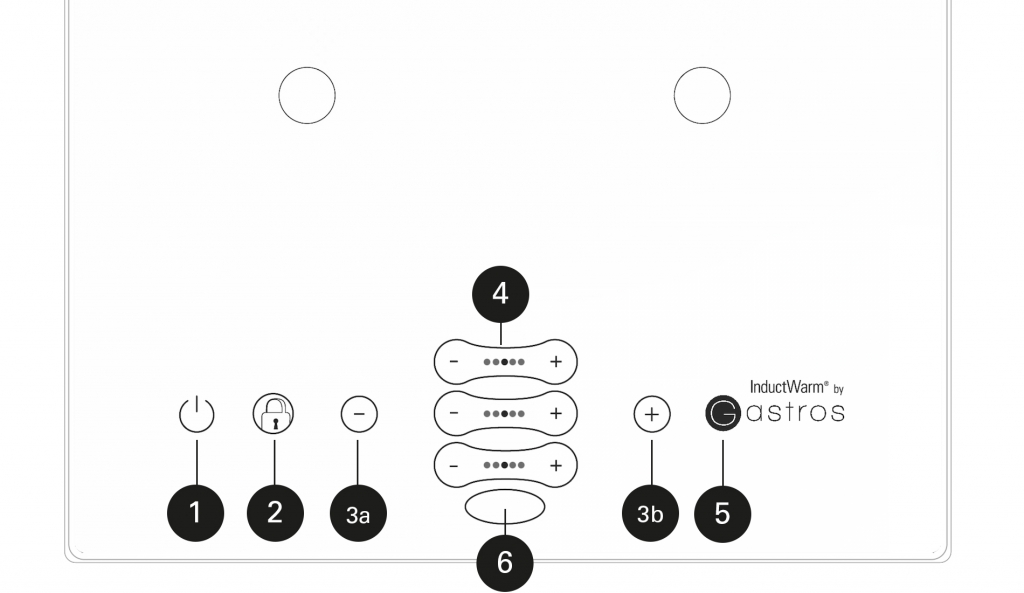 (1) Power on / off
(2) Lock touch panel to prevent guests to change the setup
(3a, 3b) Decrease or increase the overall temperature level of all zones combined
(4) Decrease or increase the temperature level of the respective warming zone
(5) Unlock touch panel (touching both button 2 and 5 at once)
(6) Infrared receiver (no action)