InductWarm® 200 Tabletop

InductWarm® 200 Tabletop GN 1/1
Usable with pots up to a size of GN 1/1
With three warming zones
Measures: 575 x 318 x 73 mm
Max. mean power: 1 kW
Input voltage range: ~110 – 230 V AC
Certifications: IEC, CE, CB, UL, ETL Sanitation (NSF)
List price: $ 2'899*
*price excl. VAT and EXW
The InductWarm® 200 Tabletop, made from brushed stainless steel, offers you the highest level of flexibility. A single model allows you to present dishes up to a maximum size of GN 1/1. Whether for fitted buffet systems or in catering use, the InductWarm® Tabletop can be placed anywhere within your buffet area. Should your requirements change at short notice, the fact that the InductWarm® system can be operated immediately will be especially useful - the InductWarm® tabletop devices can be very quickly set up and are then ready for keeping dishes warm straightaway

Using either the touch panel or the InductWarm® remote control, you can conveniently select one of four different temperature levels for each of the warming zones. LEDs will indicate the current operating status at any given time.

Thanks to its ceramic glass and non-slip feet, the InductWarm® Tabletop satisfies the most stringent safety requirements.
Operating and Unlocking the InductWarm® 200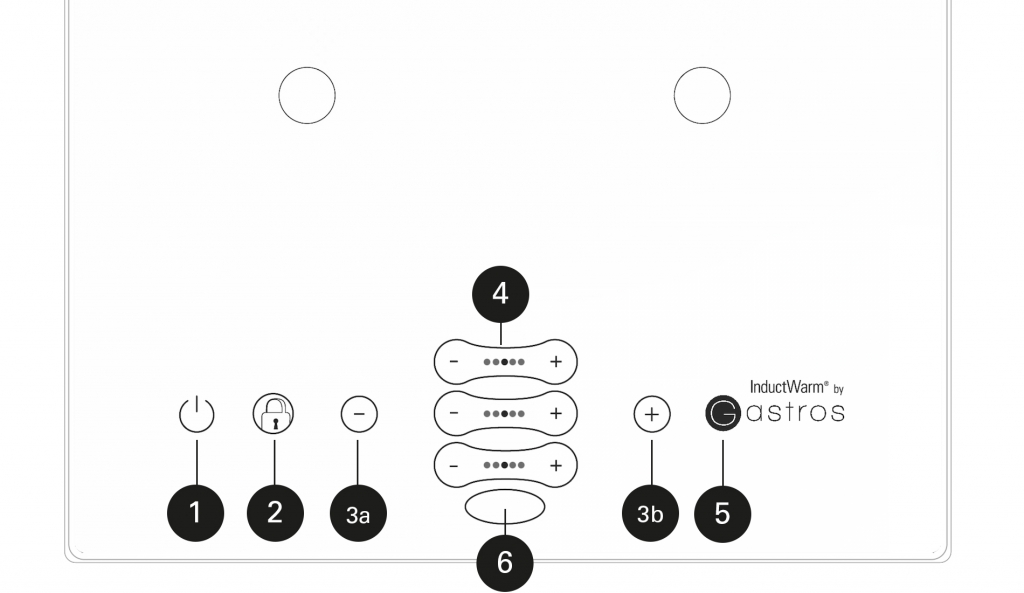 (1) Power on / off
(2) Lock touch panel (to unlock the touch panel, touch both button 2 and 5 at once)
(3a, 3b) Decrease or increase the overall temperature level of all zones combined
(4) Decrease or increase the temperature level of the respective warming zone
(5) Unlock touch panel (touching both button 2 and 5 at once)
(6) Infrared receiver (no action)