Save energy with InductWarm®
InductWarm® combines flexible design options with unbeatable benefits: Compared to conventional food warming methods (e.g., chafing dish with burning paste, ´Bain-Marie´ systems with hot water baths or resistive warming systems), induction technology is much easier, safer and, above all, cheaper to use. The reasons for this are diverse:
Save up to 90% energy with induction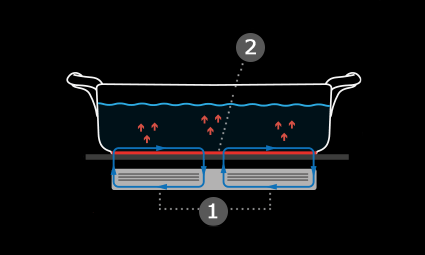 InductWarm® technology saves more than 90% of energy compared with "Bain- Marie" systems and 70% compared with the widespread method of keeping food warm by using burning paste and chafing dishes. When the food is kept warm with induction, the heat is not transferred from a heating element to the food via the dish. Instead, the energy generated by an electromagnetic field (1) is converted into heat directly in the bottom of the dish (2). The heat is generated where it is needed – directly on the food, without any loss of energy or radiant heat into the area around the buffet.
Energy efficiency is cost efficiency
Assumptions for the calculation
Use of dishes size GN 1/1
"Bain-Marie" and resistive warming plate: running 10h/day
Burning Paste: running 4h/day – energetic value 20MJ/h per litre Ethanol
InductWarm® 130+: running on level 2 (ca. 65° C) for 4h/day – electricity costs CHF 0,25/kWh
High energy efficiency, low level of power consumption
An indicator of the efficiency of InductWarm® devices is the low power consumption level of only 800W (for InductWarm® 130+) or 1000W (for InductWarm® 200). Depending on the type of protection, two to three devices can be operated with a conventional socket without any problems. After switching on, they are immediately ready for use without a long preheating period.

In addition, power is only generated when there is inductive dish set in the area above the induction device. If the dishes are removed, InductWarm® devices automatically switch to standby mode after a pre-programmed time. This minimizes the actual operating time and saves energy and costs.